At the end, they take off in a strange flying machine with a powered propeller at the front but also a rotor on top. The one on top might not be powered but just give some additional control for short take-offs & landings. I'm told it is an autogiro (or autogyro) but I don't know the make or model. It's very short & stumpy, has an enclosed cockpit and the engine is in a full cowling.

Freddy at BritMovie helped out by finding:
Now as for the autogiro/gyroplane in His Lordship, well I scanned images and looked for those made during the period of the film, nothing was definitive. However much to our delight I have found it on your doorstep.

Thanks to an article by Dr. Bruce Charnov

http://www.tonywilk.co.uk/gyroflight/Summer2005_Movies1.pdf (PDF file)
It features what is probably the only footage of the flight of the de Havilland C.24, a "one-off" tandem two-place, cabin aircraft with its then-unusual 3-blade rotor. While the aircraft was ultimately unsuccessful and never entered production (it is today in need of restoration and on display at the Mosquito Aircraft Museum located in London Colney, Near St. Albans, Hertfordshire, which is operated by the de Havilland Aircraft Museum Trust Ltd and bills itself as "Britain's Oldest Aircraft Museum - Founded 1959") , the films of its flight are stunning, if somewhat inaccurate. While the film shows three people in the Autogiro, which was designed to carry that number, "In practice it was unable to lift more than two people, and was, therefore, usually flown solo."

The autogiro used in the film, G-ABLM, a Cervia/De Havilland C24 is on display at the de Havilland Aircraft Heritage Centre in Hertfordshire (jct 22 off M25) next to Salisbury Hall.

Here is the photo from the slide gallery image page.
The photo below was taken by Neil Bassett 2011, (taken from the CAA website)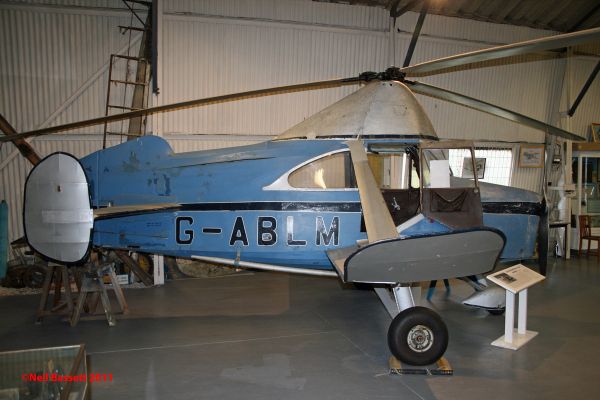 According to the CAA the owner was Cervia Autogiro Co.Ltd., Bush House, London WC 2. The aircraft's usual station was Stag Lane, it was registered 22/4/31 and withdrawn -/12/34. The Certificate classes it as a two seater, certificate of airworthiness number 3427, constructor no. 3427, certificate number 3138.