Hatches, Matches and dispatches – or…
<![if !supportEmptyParas]> <![endif]>
The truth, the whole truth and nothing but the truth – or is it?
<![if !supportEmptyParas]> <![endif]>
I myself have no particular interest in the works of Powell & Pressburger and I knew nothing of actor Roger Livesey.  That was until recently, when my partner Lou showed me an e-mail he had received regarding the Livesey family tree. He was having trouble understanding its contents and wondered whether I could make sense of it. I found the contents easy to piece together - possibly due to my lack of knowledge and pre-conceptions. However, trying to explain it to another proved more problematical.  I began to chart what I perceived to be the Livesey dynasty using the material Lou already had, coupled with new information from e-mail but there were anomalies, along with large gaps, which I felt needed investigating.
<![if !supportEmptyParas]> <![endif]>
The following is a brief account of those investigations.
<![if !supportEmptyParas]> <![endif]>
On 24th December 2002, Lou received an e-mail from Walter Rogers who had been searching for information regarding Roger Livesey and had found the PAPAS web site. Walter explained that after his wife's death he had decided to investigate a claimed family link between his wife and Roger Livesey. After some detailed research on Walter's part, he found the story to be true. Roger's grandfather was the great, great uncle of Walters' wife.
<![if !supportEmptyParas]> <![endif]>
However, Walter had been confused by the information he had found regarding Roger's parentage.  All the references he'd read stated Samuel & Mary Livesey were Roger's parents. Further, Barrie and Jack Livesey were his brothers. Roger himself had told the world in interviews that his father was the late, great Sam Livesey.
<![if !supportEmptyParas]> <![endif]>
The certificates Walter had obtained showed Roger's father to be Joseph Livesey, Sam's brother. Jack was Roger's cousin, not brother according to the birth certificate and Jack's parents were Samuel and Margaret Livesey.
<![if !supportEmptyParas]> <![endif]>
Confused? We were! We decided to do some research of our own which fascinated us. We found ourselves completely engrossed for hours on end, sometimes into the early hours of the morning scouring census records, birth, death & marriage indexes and any websites that could help us piece together what was to become a complex jigsaw puzzle.
<![if !supportEmptyParas]> <![endif]>
Attached to Walter's e mail was a family tree and birth certificates for Roger and Jack. Armed with this, information from the PAPAS site and the synopsis of the Livesey Dynasty recently received from Jill Watt, Lou and I began.
<![if !supportEmptyParas]> <![endif]>
Jill Watt described how Sam had married a young actress called Margaret who had a sister known as Cassie le Grand, a talented and successful actress who later went on to marry Sam's brother Carter.  However, on Walter's tree there was no mention of a Cassie or of a brother called Carter. Walter had, on the other hand, found Margaret had a sister called Mary and Sam a brother known as Joseph.  Could these be our Cassie and Carter?
<![if !supportEmptyParas]> <![endif]>
We were helped by the 1901 UK census being available on the internet, for a fee of course! We began by searching for Rogers Aunt's and Uncle's as per Walter's tree. We found that for the 1901 census Roger's grandmother Mary was living at 35 Wiesbaden Road in Stoke Newington together with her son, Gustavus (a comedian), her daughters Nellie (Ellen Alice) and May. Both Nellie and May had carried on the family tradition - Nellie playing piano and May an actress.
<![if !supportEmptyParas]> <![endif]>
Nellie by this time had married a comedian, William Porter and he too was found at Wiesbaden road along with their daughter Ellen, aged 8. Thomas Livesey, Roger's grandfather had died 1890 from bronchitis. There was an elderly relative living with Mary (described as Grandmother to head of household) by the name of Mary Chambers.  It is still unknown whose Grandmother she was as Chambers is not a name that has featured in either side of the family history, although it is possible that it came from a re-marriage.
<![if !supportEmptyParas]> <![endif]>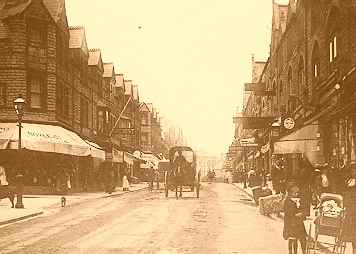 Holton Road, Barry in 1909

Sam Livesey was by now married to Margaret Edwards from Glamorgan, a concert artiste, living at 138 Holton Road Barry at census time 1901. Also at the address, his Mother-in-law Mary who ran a coffee shop.  Margaret's older sister, Cassie was living there too as was their maid Bessie Hill.  Was this the Cassie? The house at Holton road was to be Roger's birth place but not for another five years.

<![if !supportEmptyParas]> <![endif]>

Our research so far had plotted the existence of Sam, Gustavus, Ellen and May, but so far no Edward, no Carter, nor for that matter Joseph.  No amount of searching could find any reference to a Carter Livesey.  Finally we came across an entry in the 1901 census for an actor called Joseph Livesey aged 20 visiting one John Corcoran at his home in Workington, Cumberland along with five other acting fellows.  Could this be our Joseph, Roger's father?

<![if !supportEmptyParas]> <![endif]>

<![if !vml]>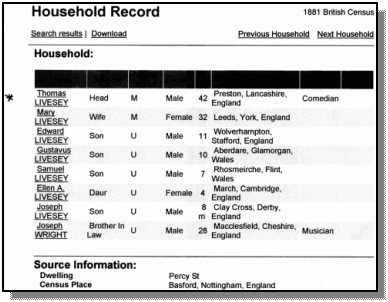 <![endif]>Unsure we began searching farther back and found that the Church of the Latter day Saints hold the 1881 census and better still there was no charge! Once again we set to task to see what other pieces of this amazing jigsaw we could piece together.  We began our search for Roger's grandfather Thomas Carter Livesey and instantly the whole family sprang up all living in Basford, Nottingham. Thomas 42, was listed as "comedian", his wife Mary (32), children Edward (11), Gustavus (10), Samuel (7), Ellen (4) and Joseph just 8 months old.  This meant that there was a strong possibility that the Joseph we had found in the 1901 census was in fact one of the same.  Along with the Livesey family, Mary's brother Joseph was also in residence and he too was a musician.
<![if !supportEmptyParas]> <![endif]>
In January 2003, we had another e mail from Walter.  He'd found the marriage certificate of Roger's parent's Joseph Livesey and Mary Catherine Edwards. The marriage certificate clearly showed that Joseph's father was Thomas Carter Livesey, proving that he and Sam were brothers and that Mary Catherine's father was the same person as Margaret's (Sam's wife), proving that they too were sisters.
<![if !supportEmptyParas]> <![endif]>
By now the family tree was growing in detail showing births, deaths and marriage dates, occupations and whereabouts at certain times, which supported the stories of the Livesey family touring widely. 
<![if !supportEmptyParas]> <![endif]>
The 1881 and 1901 censuses exhausted of information, our next stop was the Family Records Centre where births, deaths and marriages could be found in the form of indexes. This was to prove a far more laborious type of research as pages and pages of names needed to be viewed in order to pinpoint the correct listing of each individual. However, undeterred we ploughed through searching for clues to fill the gaps and to satisfy our curiosity of the story that was unfolding. We wanted to know if there was any truth in the story that after Samuel's wife had died he went on to marry his brothers widow Mary.  But first we had to find the details on Joseph's marriage to Mary and once again Walter came up trumps. On 19th September 1905, four years after the 1901 census, Joseph Livesey married Mary Catherine Edwards at Southwark Registry office and both Samuel, Joseph's brother and Roger Edwards, Mary's father were witnesses to the marriage.
<![if !supportEmptyParas]> <![endif]>
During our search for Samuel and Mary's marriage (with e-mails going back and forth to Walter), we managed to piece together details of the descendants of Thomas Carter Livesey – like Gustavus.  His middle name was Carter, which was the maiden name of his grandmother Mary. His nephew Jack was given his mother's maiden name as a middle name - Edwards.  Samuel and Margaret had another son born in 1905, Barrie and he too was given his mothers maiden name as a middle name.
<![if !supportEmptyParas]> <![endif]>
Another child born to Joseph and Mary caused great confusion.  Roger had a sister, Maggie, born in 1911.  Sadly Joseph wouldn't live to see his daughter grow up as he died six months after her birth.  Interestingly, in Jill Watt's account, along with web sites relating to the film industry there was only a mention of a Peggy Livesey but none of a Maggie Livesey.  Were there two daughters? 
<![if !vml]>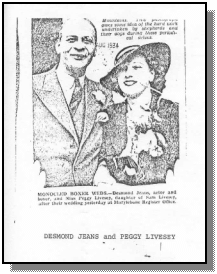 <![endif]>
Born too late to feature on any published census records we trawled through the indexes looking for inclusions of Peggy Livesey but found nothing.  It wasn't until Walter found Maggie Livesey's marriage certificate that we realised Maggie and Peggy were one and the same. Peggy may well have been either a childhood pet name or a stage name taken by Maggie.  As a final twist Maggie, had also married Roger's brother-in-law Desmond McMinn (Ursula's brother). A newspaper clipping of the marriage supplied by Jill Watt gave her stage name.
<![if !supportEmptyParas]> <![endif]>
<![if !supportEmptyParas]> <![endif]>
One evening, whilst looking at the indexes we finally came across the entry we'd been looking for, the marriage of Samuel Livesey to that of his sister-in-law Mary Catherine Livesey.  They married in 1913 in Southwark and in 1915 went on to have a daughter of their own, Stella.
<![if !supportEmptyParas]> <![endif]>
<![if !vml]>

<![endif]>
In all our research we had never come across a Cassie Le Grand or a Carter Livesey, however during a recent visit to Jill Watt, she shared with us copies of some photographs she had acquired from Jill Flanagan, Rogers second cousin.  After all the hours and hours put into investigations there they all were, Roger, Barrie, Jack, Peggy, Sam and Mary all lined up stepping out arms linked and thoroughly enjoying each others company.  Suddenly they came alive, no longer names on certificates.  In amongst the photographs were images too of Rogers Grandparents Thomas Carter Livesey and Mary Wright, of Carter Livesey and the sensational Cassie Le Grand alias Joseph Livesey and Mary Catherine Edwards, Roger Livesey's mother and father.
<![if !supportEmptyParas]> <![endif]>
Our quest for the truth had come to an end….or had it?
<![if !supportEmptyParas]> <![endif]>
Amongst the many certificates Walter sent us was the birth certificate of Thomas Carter Livesey.  His father was one Richard Livesey a power loom weaver who lived with his wife Mary in Walton-le-Dale.  Interestingly in 1794 a Joseph Livesey was born in Walton-le-Dale who was to become the founder of the temperance movement but was also known as the Preston Weaver.  Joseph Livesey and his wife Jane were married in 1815 and went on to have thirteen children.  What if one of those children was Roger's, great grandfather Richard?
<![if !supportEmptyParas]> <![endif]>
To add an extra twist to this story, while talking to my brother and brother-in-law about our research, it turned out that they had been acquaintances of Roger Livesey in the 1970's. Drinking pals would be a more precise description. They told of spending many a night with Roger in one of his favoured pubs Watford.  Needless to say I will be putting the spotlight on them very soon to hear more.
<![if !supportEmptyParas]> <![endif]>