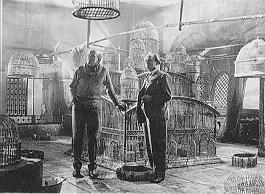 Powell and Pressburger on the Black Narcissus set
[That's not Emeric, it's "Uncle" Alfred Junge]
The Archers were at that time looking for a new composer, not to replace Allan Gray rather they wanted someone for this film with a knowledge of Indian music. Kevin Macdonald has said that "Consciously or not, it was another indication of the new 'art for art's sake' direction of their work. Music was no longer incidental, but formed the emotional core of their films". Easdale proved to his new producers that he was anxious to be inventive, writing, as a test of his ability, a two minute peice of music for Jean Simmons to dance to. He created a piece which almost entirely uses different kinds of drums.

Easdale began to be present at rough-cut screenings as the shooting progressed, taking notes on what the producers wanted. Before the filming was completed Easdale appeared on set with Michael Powell, each man holding a stop-watch and the ten minute score to the sequence they were shooting. This was the beginning of the development of the 'composed' film. They rehearsed the actors and crew to a piano track which Easdale had recorded. Powell has said. "I have never enjoyed myself myself so much in my life. for the first time I felt I had control of the film with the authority of the music. It was astonishing to everyone, but particularly, of course, to the camera crew that were able to compress or speed up the movement of the action just by saying: "No, that wasn't fast enough. We've only got seven seconds for that bit of action."